Espresso & Peanut Butter S'more
Toasted coffee flavoured marshmallow in a soft peanut butter cookie sandwich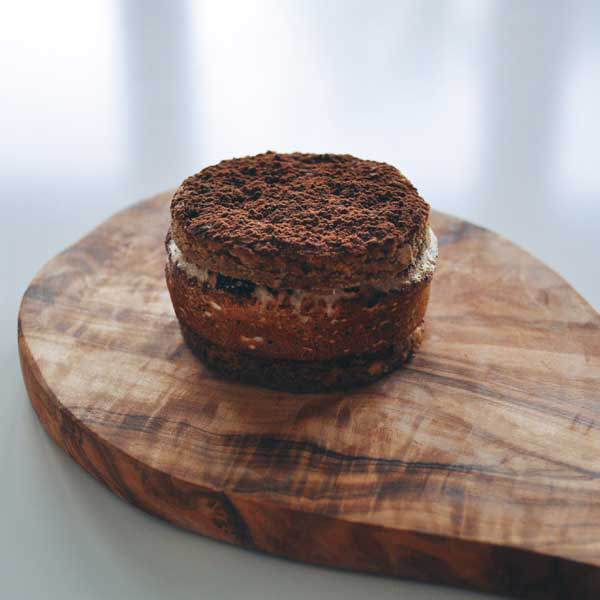 When I was 5 years old, I went to a friends birthday party. We had cake, played pass the parcel and then a game called "fluffy bunny". Each person had to stuff as many marshmallows as they could into their mouths, then try and say "I'm a fluffy bunny". I won (always the pig), but projectiled marshmallow pieces everywhere, and didn't eat another for about 15 years.
My marshmallow trauma is much milder these days, so thought I'd post up this twist on a classic American treat.

The mallow is made with a combination of freshly brewed espresso and ground espresso beans, while I'm using the very mild Koeze Cream-nut peanut butter (which you can now get at M&S in the UK) for the soft cookies.
Makes 4

Ingredients
For the marshmallow
220g Caster sugar
100ml Water
30g Liquid glucose
70ml freshly brewed espresso, cooled
5 leaves of gelatine
1tsp Vanilla extract
1tsp Coffee liquor (Illy Cafe is a good choice)
30g egg whites
5g Dark roasted espresso beans, finely ground (fresh if you can)
Icing sugar to dust
For the cookies
25g dark brown sugar
25g caster sugar
25g unsalted butter
100g crunchy, unsalted peanut butter (Cream-nut works well)
20g Dark molasses
1 tsp vanilla extract
1 egg yolk
2 tbsp water (adjustable according to how dry your peanut butter is)
50g Type 45 flour
2g Bicarbonate of Soda
For the topping
Equipment required
Stand mixer
Thermometer
Tall sided baking tray, approx. 20cm x 20cm
Silicone mat
7cm circular pastry cutter
Blow torch


For the mallow

Cut the gelatine leaves in half and place them in a bowl with the cooled espresso so that they are completely covered.

Place the caster sugar, liquid glucose and water in a heavy bottomed pot over a high heat. Put your thermometer in the liquid and let it rise to 127 degrees C. This process takes around 10 minutes.

While you're waiting for the sugar to heat, place your 30g of egg white in the stand mixer with the whisk attached. You have to be a little careful with over whipping the egg before time, so wait until the thermometer is around 124 or 125 degrees, then start whipping on a high heat.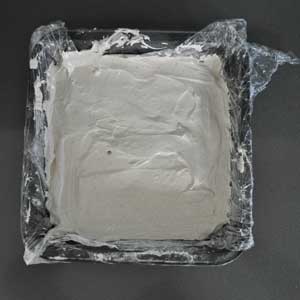 At the 127 degree point - and do this carefully - slide the gelatine and cooled espresso into the hot sugar syrup. It will bubble away vigorously, and you'll need to give it a quick stir. At this point, your egg whites should be stiff but not over beaten. Keep the mixer on high, and slowly pour the syrup mixture down the side of the stand mixer bowl. Add the vanilla extract.

After 5 minutes, add the coffee liquor. Let this beat for another 5 minutes until relatively cool and extremely thick - you'll know when it's done because your stand mixer will start to sound like it has just run a marathon. Right at the last moment, tip in the ground espresso beans and let it mix for another 30 seconds.

Take a square, tall sided baking tray - approx 20 cm x 20 cm - and oil the base. Place a sheet of cling film on that and press it into the sides. Now gently oil the cling film, and scatter over some icing sugar so that all the oil is covered. When the mallow mix is ready, use a spatula to pour it out into the tray. Use a wet palette knife to smoothen the top. Place this in the fridge for about 2 hours to set.


For the cookies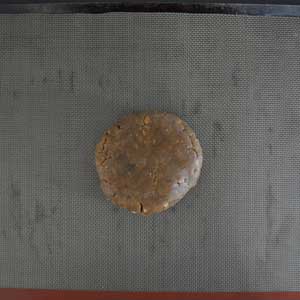 Take a bowl and place the two sugars, butter, peanut butter, egg yolk, molasses and vanilla extract inside. Blend all of these together with a wooden spoon (or electric mixer) until you get a reasonably smooth paste. Sift in the flour and bicarb, then blend again until the mixture starts to resemble wet sand.

At this point, tip it out onto your work surface and press the dough together so that the heat of your hands starts to make it solid. Take 1 tbsp of water and add it to the mix to help the process; you may need 2 tbsp to make the dough come together. You're looking for something that resembles a cookie dough - hopefully the image here will help. Roll into a ball and press down. Cover this in cling film, then put into the freezer for 10 minutes to rest. Pre-heat your oven to 180 degrees C.

As we're going to cut these cookies out, we'll initially bake the lot in one sheet. Take the dough from the freezer and place it on a silicone mat on top of a heavy tray. Dust your rolling pin with a little flour, then roll out the dough to a thickness of around 5mm. Place in the oven for 10 minutes.

When time is up, you should see that the cookies are golden but soft. Take them out, and cut 8 rounds with the cutter. Move away any cut-off biscuit (it's for the chef) and return the 8 rounds to the oven for a further 2 minutes to brown off the edges.


Assembly

Take the marshmallow out of the fridge, and invert it onto an icing sugar dusted chopping board. Peel of the cling film, and use the same 7cm cutter from the cookie section to cut 4 rounds of mallow.

Place one round of mallow on your palette knife, then toast the edges and the top with a blow torch. It will probably catch fire, and that's what you want - just be careful not to burn your kitchen or any nearby loved ones.

When it looks suitably browned, slide the mallow from the knife onto one of the biscuit rounds, then top with a second round.

Repeat with the other 3 S'mores, then dust with the cocoa powder and serve while the mallow is hot and soft.