Lahmajun with an apple salad
An Armenian favourite, turned into a healthier protein-rich dinner
While not quite as exciting to post about, running or exercising well requires a certain diet. I've been pounding the streets of Mill Hill for over 20 years now, since the day I accidentally "auditioned" for the cross country team at school back in the 90s. For the last 10 years, the wife (who is also a runner) and I have stuck to a pretty simple set of rules - no alcohol during the week and eat healthy, lower calorie (but not low calorie) balanced food for exercise fuel Monday to Thursday ... then the weekend is ours to bathe in butter, bread and wine.

It's not about a super low cal diet for us. This suits a lot of people, but when you're out running for miles or working at high intensity in the gym it's simply not good for you to have zero fuel in the tank. You need some extra carbohydrates to power you if you're working hard, and protein to assist muscle gain and recovery.
This recipe is for a traditional Armenian dish, tweaked to be more healthy. My dad (one of those old school pure-blood Armenian types), says in his experience Lahmajun is made with lamb and fried onions. That sounds like a recipe for keeping our Kim Kardashian sized backsides up to standard Armenian XL size.

So, instead, I use beef fillet to keep things lean and bake the onions with the mince to cut another portion of oil out. Served with the apple salad, it makes a great dinner for days when you're exercising hard during the week.
Makes 4 Lahmajun / serves 4
470cal per portion
Ingredients
For the dough
120g warm water
3g active yeast
1 tsp olive oil
3g caster sugar
200g double zero (00) flour
2g diax
3g salt
For the topping
400g fillet steak, or another steak cut with all fat removed. Should be placed in the freezer for an hour to firm up
1 brown onion
20g fresh parsley (and some extra for garnish)
5g fresh mint
250g chopped, tinned tomato
1tbsp tomato puree
3g salt
1tsp pomegranate molasses
1 lemon
1g cinnamon
1g ground coriander
1g cumin seeds
2g all spice
20g pine nuts and an extra tsp cumin seeds for toasting
For the apple salad
1 eating apple (Braeburn)
20g fresh parsley
2tsp olive oil
1tsp pomegranate molasses
Equipment required
Food processor
Pizza stone or heavy tray


For the dough

Mix the water, olive oil, sugar and yeast in a jug and let it activate for 5 minutes. Mix the flour, diax and salt together then combine with the wet ingredients and knead (by hand or in a machine with dough hook) for 10 minutes.

Place the dough in a lightly floured bowl and cover with cling film. Keep in a warm place until doubled in size.


For the topping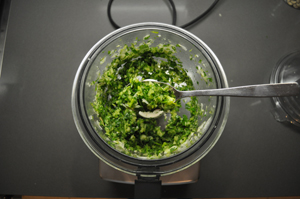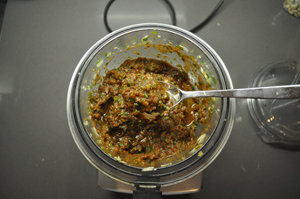 Freezing the meat makes it much easier to mince. Fillet can be soft to mince, so the low temperature allow it to pass through the blades without turning to mush. You can also used shop bought lean beef mince if you don't want to make your own.

Mince it, then grind a decent lot of pepper on top and set aside.

Take put your food processor. Slice an onion and remove the skin, then add that, the parsley and mint to the mixer bowl. Blend until roughly chopped - don't go too far, you don't want a puree. The photo here should give an indication.

Now weigh the spices and salt, then add to the onion mix with the tomato puree, canned tomato and pomegranate molasses. Blend again, being careful not to over puree it. Taste the mixture then add a squeeze of lemon juice to taste and more salt if required.

Leave this mix in the bowl of the processor for about 10 minutes - we want any of the excess liquid from both the onions and the tomato to come out. When you can see that has happened, use a spoon to hold the mixture back and carefully pour off the water into your sink.


Putting it together

Turn your oven on to 230c to pre heat, and put a big non stick pan over your hottest stove top burner or element. If you have 2 pizza stones, put them in the oven.

We left the food processor mix and beef separate so that the meat doesn't start to cook from the salt and lemon. When your oven is up to temperature and you're nearly ready to cook, combine the food processor mix with the mince. Don't overwork this - it should be quite loose. The photo here it what you should end up with.

Knock the dough back and split into 4 balls.

Flour the work surface and rolling pin, then roll out one ball to a round disc about 3mm thick. Place this into the scorching hot pan and centre it. Take 1/4 of the meat mixture and spread this on top. After 1 to 2 minutes, slide out the Lahmajun onto your work surface and repeat with the other three balls.

What we've done is seal the base and give it a crisp underside. Now all 4 are done, use your peel to slide them all onto the pizza stones on your oven. If you don't have stones, put a heavy tray into the oven to heat up instead.

Bake for 8 minutes.

While this is happening, finish the top and make the salad.

Core the apple but don't peel it. Roughly chop the parsley the dress with the olive oil and pomegranate molasses. Season the use your hands to toss the salad. Taste and adjust the seasoning if necessary.

Finally, heat a pan and toast the pine nuts and cumin until they start to smoke.

Put a tablespoon of this into the salad and mix. When the Lahmajun are finished, take them out and scatter the rest of the nuts over each one.

Place a quarter of lemon on each one, a sprig of parsley and serve with the salad immediately.
Comments & Sharing
comments powered by

Disqus