Chocolate, Date, Coriander & Tangerine delice
Chocolatey goodness with a dash of the unusual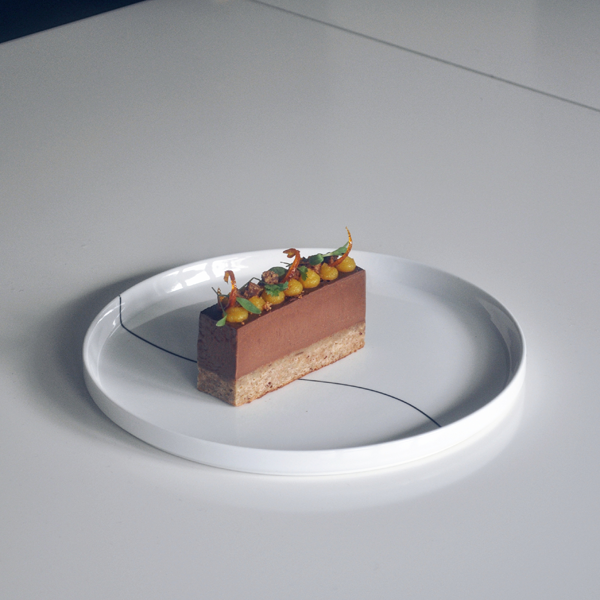 We eat in restaurants quite a lot at the weekend, but with all the hype these days it's not often a place lives up to what people say.

The wife has been gushing about Le Bab for months now, normally telling me how good it is around 2 hours after eating a low carb, 300 calorie week day meal. Thanks.

Last week we went for dinner and I've got to say; their lamb kebab was the best I've ever eaten. That's coming from a half Armenian (national dish: kebab) and a mother who has been making amazing barbecues all my life (favourite: lamb kebab) - so I really mean this thing is spectacular.

Anyway, I digress. I've since tried to re-create it for burger night, but its heady mix of dried coriander and delicious date chutney gave me an idea for this ... dessert.

It might seem odd, but it really does work - obviously we've got the chocolate-orange thing going on with the tangerine, but the dates give the base cake a great texture and coriander acts as a kind of gingery lift.

Most of the stages are simple, but I've got my chemistry set out for the fluid gel. You can just use gelatine if you have it, but agar agar is quite widely available these days - so get some if you can and try this out.
Ingredients (Makes 1 block which you can slice as you wish - between 8 and 10 portions)
For the cake
170g Medjool dates
250g water
5g bicarbonate of soda
75g lightly salted butter
175g golden caster sugar
3 large eggs
220g self raising flour
10g ground coriander
For the delice
340g dark chocolate (at least 50%) [I used Callebaut in this]
2 large eggs
325g whipping cream
150g whole milk
For the candied tangerine peel
Peel and juice from 2 tangerines
100g caster sugar
100g water
For the tangerine fluid gel
The juice of the 2 tangerines
2g agar agar
To serve
Equipment required
24cm x 14cm cake frame or similar sized tart case with a removable bottom
Large brownie tray, 35cm x 24cm, to make the cake in
Piping bag or squeezy bottle sfor the fluid gel
Make the cake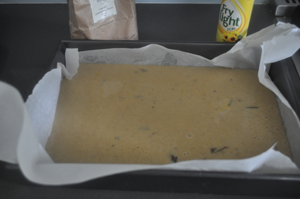 Pre-heat your oven to 150°C.
Stone and chop your dates really roughly into small pieces.
Place the butter in your stand mixer bowl with the beater attached. Pour in the golden caster sugar and leave them to cream for about 5 minutes. Crack and drop in the three eggs, one at a time, with the beater still running on low speed. Sieve in the flour and mix again until everything is combined.
Next, add the ground coriander, and finally the chopped dates and water. Keep mixing; this lot will look ridiculously wet, but stay with me.
Prepare your brownie tin with some greaseproof paper (as you can see from the image, much care was taken here) - use some baking or 1cal spray to bind it to the tray, and some more to make sure the cake doesn't stick.
Pour the batter into this, then place in the oven for 50 minutes.
You'll end up with a very delicious, moist cake. You'll also have some spare bits to eat, and some more to make into crisp pieces for the top. Set this aside for a few minutes, then turn out onto a cooling rack and leave to cool completely.
Next, take your cake frame and prepare it with two overlapping sheets of cling film (i.e. one going horizontally, then another on top going vertically). Carefully cut the cake to fit the frame, and place it in - shiny / browned side at the bottom.
Make the delice
Place your eggs in a heatproof metal bowl and whisk until pale. Weigh out the chocolate - if you're not using callets, then chop it roughly. Set aside.
Pour the milk and cream into a heavy based saucepan and heat until it's boiling. When it reaches temperature, carefully pour a small amount over the eggs to temper them and keep on whisking. Slowly pour more, whisking continuously, until you combine all of the heated milk/cream with the eggs.
Finally, drop in the chocolate and stir with a heatproof spatula until it's completely combined - this might take several minutes.
The delice is complete, but needs to cool to a more viscous consistency so you can pour it into the frame without it soaking too much into the cake beneath. Place it into your freezer for about 20 minutes.
When it's ready, pour over the cake in the frame, then place the lot in the freezer again for about 2 hours to firm up completely.
Make the fluid gel
Juice your tangerines and put the liquid into a heavy-based pot. Weigh the agar agar on a light-weight scale. Heat the juice until it's boiling, then drop in the agar powder and whisk really well.
Let it boil for a minute or so, then remove from the heat and pour into a bowl to set.
This doesn't take long - really just as long as the boiling liquid takes to cool. You need it to be completely set though.
When it's ready, spoon the solidified juice out and chop it roughly. Place in a food processor and blend until it's like a really thick liquid.
Pour into a piping bag with a small tip, or a squeezy bottle and reserve in the fridge.
Make the candied tangerine peel
Place the sugar, juice and water in a heatproof pot. Slice the tangerine peel so it's very thin, then add to the pot too.
Bring to the boil and heat vigorously until the sugar and juice becomes a syrup - take care not to burn it though. When done, remove from the heat, then spoon out the peel and lay it on some greaseproof paper to dry.
Plating up
Take some of the reserved date cake (if you've not eaten it all) and chop it into tiny pieces. Toast it in the oven on a very high heat for about 5 minutes.
Get a really sharp knife ready and heat the blade with a blowtorch or gas hob if you can. If not, just run it under hot water (but dry it before using). Remove the delice from the freezer and unwrap it from the cling film. Place on a chopping board, then carefully trim all four sides.
Make slices along the delice until you get your desired portions - Mine were approximately 2.5cm wide.
Work quickly here, as this delice only stays upright while at fridge temperature - if you find it melting too quickly while chopping, put it back in the freezer. As you chop each slice you can always place them in the fridge while you continue cutting and plating.
Pipe 7 small dots of fluid gel on the top of the cake along one edge, then 6 dots on the other, alternating with the dots on the first row. Place one cube of toasted date cake between each pair of dots. Take three slices of peel and place one on each end, and a final in the middle. Lastly, carefully add a few micro coriander leaves on top. Crumble a few more of the toasted cake cubes up and sprinkle on top.
You can either serve immediately, or it will stay solid as long as it's in the fridge.
Okay, I'm hungry now. Le Bab anyone? ...
Comments & Sharing
comments powered by

Disqus